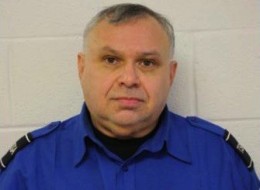 The TSA is trying to fire an agent in Chicago after police say he stole $8,500 from a woman's checked luggage.
Angel Velazquez, 56, is facing felony theft charges after he was arrested Tuesday, ABC Chicago reports.
Prosecutors said the 11-year veteran of the agency was caught on surveillance video going through the suitcase of a 48-year-old passenger flying out of Chicago's O'Hare International last November, according to DNAinfo.
TSA Agent Angel Velazquez Accused Of Stealing $8,500 From Checked Luggage